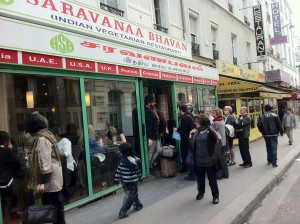 Saravanaa Bhavan is the chain of vegetarian restaurants that originated in Chennai, India and now in many countries around the world like USA, UK, France etc. This is one of the only handful 100% vegetarian restaurants in Paris.
Being a vegetarian and also one who loves South Indian food, I frequent this restaurant a lot. After going there so many times, I felt that I should write a quick post which can help others.
The restaurant is located near the Gare Du Nord area of Paris, which is also known as little India, little Sri Lanka etc. Here is a tip – if you are going to this restaurant on a cold winter day, the best exit from the railway station is the exit going towards "Rue Du Faubourgh Saint Denis" from the Magenta RER station. Even though Gare Du Nord is the main station, you are better off making the indoor walk to Magenta and exiting out from the Faubourg Saint Denis exit.
The restaurant specializes in South Indian cooking. If you know about Indian cuisine, there are many varieties and among the different varieties of South Indian cuisine, the restaurant keeps true to its Tamil Nadu (state in south India) roots. So the best bet to try at this restaurant are items like Idly, Dosa, Upma that are local to South India. The good news is that there is an overwhelming variety of Idlies and Dosas that can keep one occupied for a long time! They also make North Indian items like Chapathi, various North Indian curries etc. As any good Indian restaurant should, they also serve Chinese items like Gobi-65, Vegetable Spring roll, Chilli Paneer etc. I am sure my friends from China will recognize these items (not!). These items are better avoided even though they take up half the menu.
The many varieties of Idly and Dosa has its downsides too. They come with the same sauces, chutneys and sambars. So even though you might be expecting three different things by ordering three different idlies, they all turn out to be almost the same since you will get the same sauces and chutneys to go with them. My suggestion would be to try one idly, one vada and one dosa. If you feel adventurous, you should add something from the North Indian and Chinese menu.
Regarding the beverages to have, the standard mango lassi is too sweet and is best avoided. The fresh juices are really good. If you want to have it the way it is made in Indian roadside juice stands, ask them to add some sugar to it.
The best dessert here is the Falooda. If you can get the sweet pongal, it will be awesome but it is made only on special days. The other desserts like Rava Kesari, Gulab Jamun are available at all Indian restaurants in Paris and should be similarly avoided.
A note about the timing of the restaurant. They are open until 11 pm everyday. The best days to visit are Friday nights and Saturdays. They make special items on these days (rava idlies!). Even though the restaurant tends to be crowded on these days (see the line in the attached picture), the service is really fast. Avoid going there on Sundays (and Sunday evenings especially) since the food seems to be almost spoilt!
If you are interested in the interesting story of the founder of Saravanaa Bhavan, who is now in a jail in India, check out this news.