One of the advantages of being part of the Founder Institute is that you hear about products being launched by other founders all the time. Recently, I came to know of a founder who launched an iPad game for kids called Grow Your Garden HD.  Since I am always looking for interesting and educational apps for my son, I asked and received a promo code to try it out (Ok, that was a disclaimer there!).
The app is a game to teach math for the kids. The objective is to water and grow the plants in your garden. As you grow the plants, they will give you flowers that you add to your flower collection. The education part comes in how you water the plants. You get some watering jars to water your plants (see image below). The plants can only take a fixed quantity of water to grow. If you give it more water, the plant will die. So you have to figure out the right quantity of water using a combination of jars provided in order to water the plant. When I saw this, I wasn't sure if kids would understand or like the premise. So I gave the app to my son to try it out.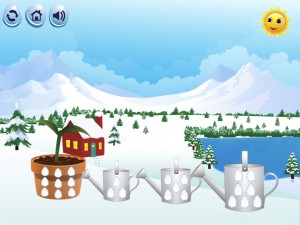 The first few minutes, he was trying to figure it out. Then he was on a roll. He liked the fact that the game becomes more and more challenging as you move through the levels. I was actually surprised that he played with it for more than an hour before getting tired of it. After a while when he wanted to use the iPad, he went right back to the app and completed all the levels! He did ask for my help with the last level though.
I was very impressed with the way the app is built. When I played with it, I could feel myself getting involved with the challenge. I think this is a great way to combine education and games. I am sure I would have loved to learn math this way!